The "Ladies"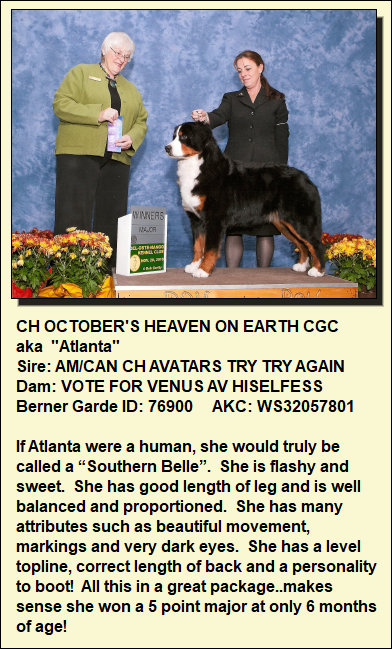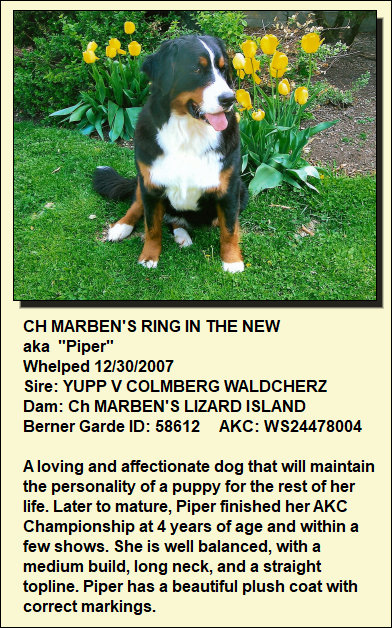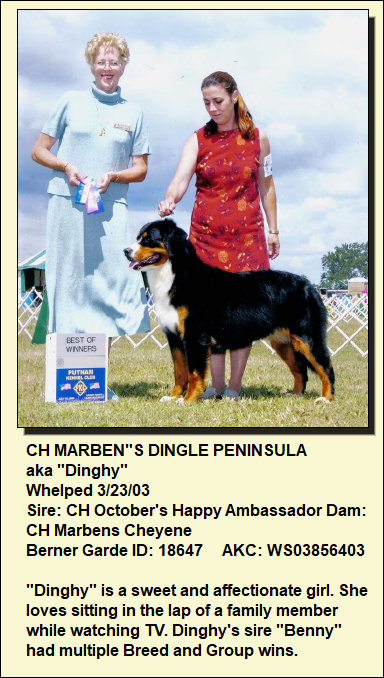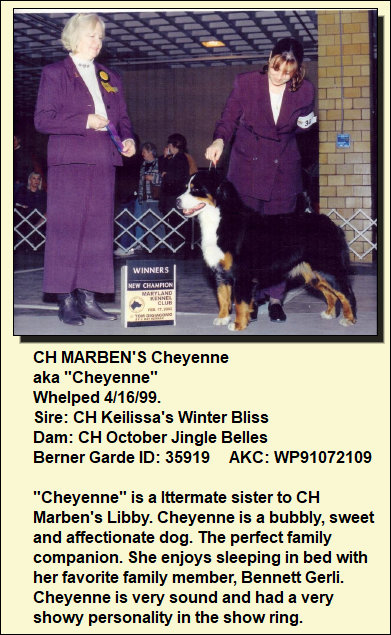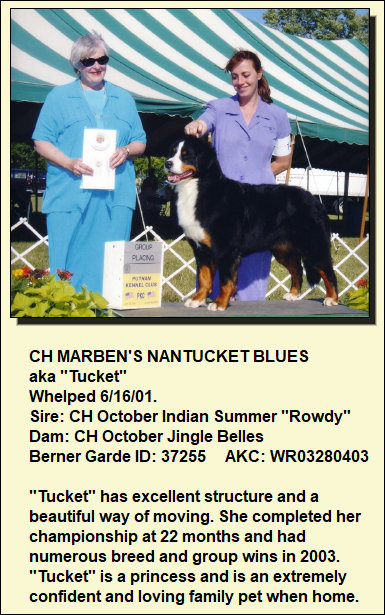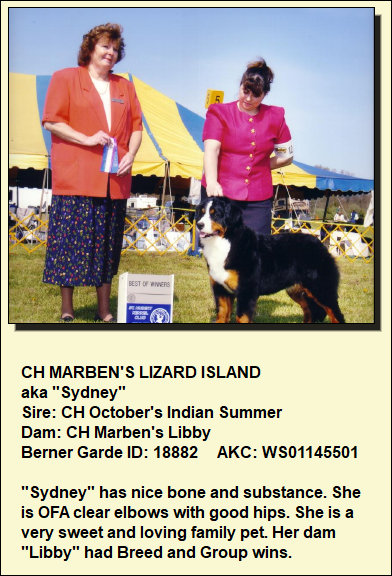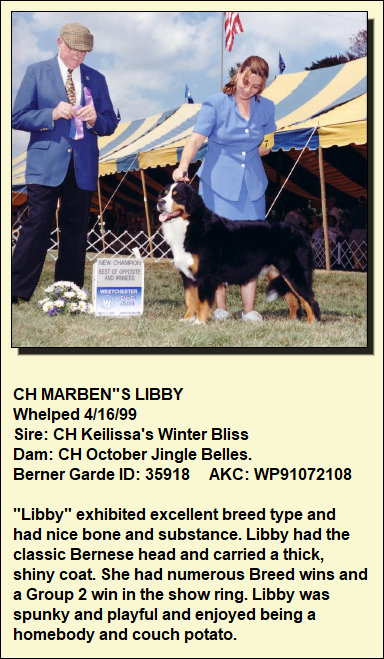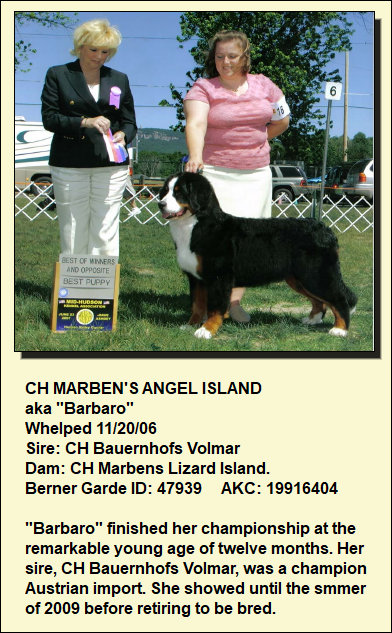 Champion
Bernese Mountain Dogs


MARBEN'S GEMMA MIA
aka " Gemma"
Whelped 6/29/2007
Sire: CH ALPENBACH WANDERING STAR
Dam: CH MARBEN'S NANTUCKET BLUES
Berner Garde ID: 74700 AKC: WS23365508

Julia Wasserman is Gemma's true mom but is co-owned by Marben's Bernese Mountain Dogs (Tiggie Gerli). Gemma is a "chip off the block" and is truly a repeat of her dam "Tucket". She has a showy personality, beautiful head and beautiful dark eyes. Her sire came to the US for six months and completed his US championship during his brief stay.
Tiggie, Jay, Bennett & Brooks Gerli
252 East Street
Sharon, CT 06069
Email - jgerli@snet.net
Tel. (860) 364-2161
Fax. (860) 364-2163
CCH Marben's Champagne On Ice
AKA: Perri
Whelped: 3/22/14
Sire: GCH Ayehli's Keeper Of The Keys
Dam: CH Marben's Ring In The New
Berner Garde ID: 110425
AKC: WS46855101

Daughter of Piper. Hands down, the comedian in the bunch! Perri is a true sweetheart, affectionate and very friendly. She takes life in stride, finding time to smell the flowers along the way... and eat one or two as well!

Perri is slightly smaller in body frame. She balanced, nice reach and drive and a good tail set. She has a beautiful head, very well marked and nice dark eyes.

Ayehli's Buckley V. Marben
AKA: Buckley
Whelped: 11/22/15
Sire: GCH Ayehli's Keeper Of The Keys
Dam: CH Ayehli's There We Go Again
Berner Garde ID: 128197
AKC: WS52438303


AKA: GCH Marben's Noel CGCA
Whelped: Dec 25, 2016
Sire: SUPER MINI MACCIE VOM RUMMELSBACH
Dam: MARBEN'S SAVANNAH
Berner Garde ID: 142506
AKC: WS56068701

Noel is a girl that I am so proud to have bred and still own. She finished her Grand Championship before the age of two. Noel has a beautiful plush coat with correct tail carriage. Noel is truly a classic Bernese Mountain Dog with a temperament that is silly and playful. She is a true lap dog.